HP Deskjet 710c Printer support
Do Not Replace the Tape Over the Nozzles on the HP Inkjet Print Cartridge
Introduction
The purpose of this document is to provide information concerning replacing the tape over the nozzles on an HP Inkjet cartridge to extend the life of the cartridge.
Once the tape is removed from the print cartridge, re-applying the tape can lead to other problems such as color mixing (see example below), clogged nozzles or damage to the orifice. The printer protects the print cartridge when it is not in use, effectively sealing the nozzles to prevent them from drying out. The printer is designed to be able to keep the print cartridge healthy for as long as possible. It is the most effective way to protect the print cartridge investment.
Possible solution
The best solution in this case is to clean the nozzles via the HP Deskjet Toolbox that you installed with your printer. For most printers, the Toolbox will have a "Maintenance" or "Printer Services" tab. Choosing this tab reveals a "Clean the print cartridges" option. Choose this option and follow the instructions presented. Please note that having the printer clean the nozzles is the only recommended way to clean the print cartridges.
NOTE:
You may need to run the clean test multiple times. If this does not improve the performance of the color cartridge, replace the cartridge.
The printer is specifically designed for this purpose and can clean the cartridges effectively and safely. Any attempt to clean the
nozzles
by hand will very likely cause irrecoverable damage to the cartridge. If unable to locate the toolbox, refer to the document titled
HP Deskjet Printers - How to Print Internal Tests.
Locate your printer and follow the steps to perform a clean test.
Additional information
If you must temporarily remove an ink product, store it in an upright position in a sealed plastic container.
For a complete selection of HP Printing Supplies, visit
HP's Store online
. Here you will find part numbers, specifications, and prices.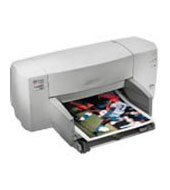 More for this product
HP Support forums
Find solutions and collaborate with others on the HP Support Forum