HP PSC 750 All-in-One Printer support
Fixing Paper Jams or Paper Feed Problems for HP Officejet and PSC Series All-in-One Printers
Introduction
This document describes how to fix jams and paper-feed errors.
Clearing a paper jam
Paper jams can be real or false. The unit might report a paper jam when there is not any jammed paper. The solution to a real paper jam or a false paper jam is the same.
WARNING:
Jammed paper
must
be removed using the rear access door with the power cord disconnected to prevent mechanical damage.
Do not
remove jammed paper from the front of the unit.
Turn off the HP product and turn it around so the back of the unit faces you.

Disconnect the power cord from the back of the all-in-one. The power cord must be disconnected to allow the paper feed rollers to turn freely.

Locate the rear access door and then open it by turning the dial counter-clockwise and then pulling the door toward you.

Inspect the pressure rollers on the rear access door and verify that they are clean and turn freely. Clean the rollers if needed with a soft towel lightly moistened with water. If the rollers do not turn freely, replace the rear access door.

Click How to buy on this page to order replacement parts.

From the rear access door opening, remove the jammed paper. If some of the jammed paper cannot be removed from the rear access opening, carefully remove it from the front of the unit.

Remove the remaining paper from the paper supply tray. Discard any paper that is damaged or crumpled and then re-stack and reload the paper into the paper supply tray.

Reinstall the rear access door.

Reconnect the power cord to the unit and turn the unit on.
Paper jams still occur
If the problem continues, check the following:
Disconnect the power cord from the all-in-one and remove all paper from it.

Open the rear access door and clean the paper feed rollers with a soft clean cloth lightly moistened with water. Reinstall the rear access door when finished. Verify that the rear access door is fully locked. The paper will skew if it is not fully locked.

Open the print cartridge access door.

Look into the front of the all-in-one. There are four small metal pressure rollers that ride on the main feed roller. Verify that there is no paper debris or labels stuck on these rollers. Carefully remove any debris using a tweezer or similar tool.

Close the all-in-one and reconnect the power cord.

Refill the paper tray with paper. Verify that the paper tray is full pushed into the all-in-one. The paper tray is spring loaded. If it cannot seat in fully, paper may be holding it back or the spring may have come loose.

Make another copy or print again.

If the problem still exists, the all-in-one will require service
Causes of paper jams and preventative measures
| Problem | Solution |
| --- | --- |
| The print on the paper is skewed. | Slide the paper-width adjuster against the left side of the paper stack, and make sure that the rear access door in the back is fully "locked". |
| The paper is tearing or is dented in the middle. | Push the paper supply tray in all the way. If it does not remain in place (it is spring-loaded), the spring may have come loose. |
| The paper is not properly loaded in the IN tray. | Remove the paper from the IN tray. Restack and reload the paper. Slide the paper-width adjuster against the left side of the paper stack. Slide the paper-length adjuster against the end of the paper stack. |
| The paper supply tray is too full. | The paper tray can hold up to about a 12.5 mm (.5-inch) stack of media (approximately 90 sheets of 20-pound paper). Make sure that the paper stack does not exceed the maximum amount. |
| The output paper tray is too full. | The output tray capacity is 50 sheets. When copying a job that is more than 50 pages, remove the pages from the output tray frequently. |
| The paper is too long. | Do not use paper that is longer than 14 inches. |
| The paper exceeds the printer specifications. | Verify that the paper meets the paper-handling specifications. |
| Mixed paper or media is in the paper supply tray. | For best paper handling, load only one type of paper or media for a print job in the paper tray. |
| An obstruction is blocking the paper path. | Look for and remove obstructions that block the paper path. |
HP PSC 750 All-in-One Printer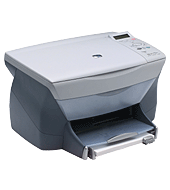 More for this product
HP Support forums
Find solutions and collaborate with others on the HP Support Forum