HP Officejet 5610 All-in-One Printer support
Replacement Printer Instructions for HP Officejet 5600 All-in-One Series
When HP replaces your defective product, some accessories or parts need to be transferred from the defective product to the replacement product.
NOTE:
Some optional accessories might not be included with your product model.

Keep any optional accessories that you bought separately.
Instructions
Prior to replacing or disposing of your defective unit, follow these instructions to ensure the right accessories are removed.

a) Cartridges. Make sure that the unit is plugged in and turned on before removing the print cartridges.

NOTE:

If the cartridges are not going to be inserted in the replacement product immediately, please store them at room temperature inside a rigid sealed plastic container. Store the color cartridge with the nozzles

DOWN

and the black cartridge with the nozzles

UP

. This will help prevent ink from drying out.

Then, unplug the printer and keep the following accessories:

b) Bezel panel

c) Bottom (Input) tray

d) Top (output) tray

e) Power module

f) Power cord

g) USB cord

h) User Manual and CD

Transfer the accessories mentioned above from your defective unit to the replacement product.

Apply power to the replacement product and test all the product functions.
HP Officejet 5610 All-in-One Printer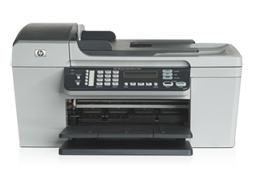 More for this product
HP Support forums
Find solutions and collaborate with others on the HP Support Forum