HP LaserJet P1006 Printer support
Replacing the Print Cartridge
Introduction
This document contains instructions to replace the print cartridge.
Video of replacing the print cartridge
The following video demonstrates the steps explained on this page. The outside of the product might look different, but the steps are the same for your product.
If you have trouble viewing the video or to view the video in a different size,
click here
to play the video on YouTube.
Replacing the print cartridge
Open the print cartridge door, and remove the old print cartridge.

CAUTION:

To prevent damage to the print cartridge, minimize its exposure to direct light by covering it with a sheet of paper.

Removing the print cartridge

Remove the new print cartridge from the packaging.

CAUTION:

To prevent damage to the print cartridge, hold the print cartridge at each end.

Pull the tab until all the tape is removed from the cartridge. Put the tab in the print cartridge box to return for recycling.

Figure 2: Removing the sealing tape

Gently rock the toner cartridge from front to back to distribute the toner evenly inside the cartridge.

Figure 3: Shaking the print cartridge

Insert the print cartridge in the device and close the print cartridge door.

Inserting the print cartridge

CAUTION:

If toner gets on your clothing, wipe it off with a dry cloth and wash the clothing in cold water. Hot water sets toner into the fabric.
NOTE:
When toner is low, faded or light areas appear on the printed page. You might be able to temporarily improve print quality by redistributing the toner. To redistribute the toner, remove the cartridge from the device and gently rock it from front to back.
HP LaserJet P1006 Printer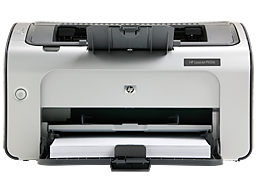 More for this product
HP Support forums
Find solutions and collaborate with others on the HP Support Forum