HP PSC 750 All-in-One Printer support
Which Cartridges Work with My HP Printer?
This document applies to all HP printers manufactured after 2007.
This document helps you find and purchase the correct toner or ink cartridge replacement for your HP printer.
HP SureSupply has toner and ink cartridge compatibility information for all HP printers, including those manufactured prior to 2007. To use HP SureSupply, go to
HP SureSupply
and type your model number.
Purchase ink cartridges
Once you have identified the correct HP ink or toner cartridge, you can purchase the ink or toner cartridge at most local electronics stores, business supply centers, or online by visiting HP SureSupply.
Scroll to the bottom of the page and make sure that the country/region location is correct.

Follow the on-screen instructions to order your cartridge.
Find the cartridge number for your printer
To determine which ink or toner cartridges work with your HP printer, find your printer model in the tables listed below. HP ink and toner cartridges are labeled with alpha-numerical characters and color descriptions that help distinguish which cartridges work with selected printers. The ink or toner cartridges are listed according to where the printer was manufactured. Some printers use more than one cartridge. For example, an HP Deskjet 1510 All-in-One Printer uses an "HP 61 Black" ink cartridge, as well as an "HP 61 Tri-color" ink cartridge.
The following tables display ink or toner cartridge information for all HP printers manufactured after 2007.
The following tables display ink cartridge information for the HP 910 Printer Series.
The following table displays ink cartridge information for HP 910 Printer Series.
Printer models

Region printer was purchased

Ink cartridge name

HP 910 Printer
The Americas
N/A
Europe
HP 900 Black

HP 900 Tri-color

HP 58 Photo
Middle East and Africa
HP 900 Black

HP 900 Tri-color

HP 58 Photo
Asia Pacific
HP 900 Black

HP 900 Tri-color

HP 58 Photo
HP PSC 750 All-in-One Printer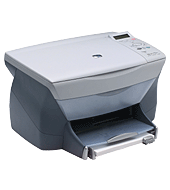 More for this product
HP Support forums
Find solutions and collaborate with others on the HP Support Forum