HP TouchSmart IQ538hk Desktop PC support
Error: BOOTMGR is missing
This document pertains to HP and Compaq desktop PCs that came with Windows Vista.
The following error opens when attempting to start the PC:
If you recently installed an additional hard drive, turn off the computer and remove the drive before using the following steps:
Open HP System Recovery:

CAUTION:

Do not perform a system recovery! Stop at the first recovery screen.

Press the F11 key repeatedly while the computer is starting until you see the HP recovery manager screen

If you have a recovery disc, turn on the PC and insert the first recovery disc into the drive. Use the disc to enter the system recovery.

If the error message persists, open the recovery manager screen as was done in step 1.

At the recovery manager screen, press ALT + D.

After bootrec completes successfully, the computer displays "The operation completed successfully".

To close the command prompt, enter the following text: exit

On the Recovery Manager screen, select Microsoft Startup Repair tool (again) and wait for startup repair to find and fix errors. When finished, restart the computer.
If you removed a hard drive before using these steps, replace the drive. If the error occurs again, make sure the additional hard drive is not set as an active drive. Only the main bootable drive should be set as active.
HP TouchSmart IQ538hk Desktop PC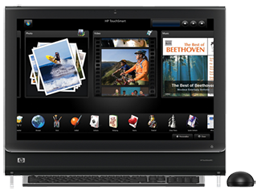 More for this product
HP Support forums
Find solutions and collaborate with others on the HP Support Forum