HP Officejet K7100 Printer support
What Happened to HP Toolbox in Windows 7?
Introduction
Although your HP product essentially functions the same with the in-Operating System (in-OS) driver, you might notice some differences. One difference is that you will not have access to HP Toolbox as before. However, there are workarounds available for the tasks that are typically performed with HP Toolbox.
HP Toolbox workarounds
Use the following HP Toolbox workarounds when you install the product using the driver in Windows 7.
HP Toolbox

Function

Workaround

Printing a self-test page
For products with buttons on the control panel (the front of the printer), you can print a self-test page using those buttons.
Cleaning the cartridges or printheads
None
Checking estimated ink levels

Print a self-test page through the buttons on the control panel

View the ink level indicators on the control panel, if there are any

Aligning the cartridges
None
HP Officejet K7100 Printer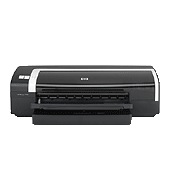 More for this product
HP Support forums
Find solutions and collaborate with others on the HP Support Forum