HP Photosmart 5510 e-All-in-One Printer - B111a support
Inserting a Memory Card
Introduction
Use the information and instructions in this document as a reference to insert a compatible memory card into the product.
Inserting a memory card
Remove the memory card from a digital camera or a mobile device.

Identify the type of memory card that you have.

Supported memory cards

Multimedia cards



Secure Digital High Capacity

Memory Sticks



In the lower left corner of the product, find the memory card slot that is compatible with your memory card.

If the power is off, press the Power button (

) to turn on the product.

Hold the memory card so that the contacts face the left. Align the card vertically to match the card slot.

Gently push the memory card into the memory card slot until it stops. The memory card does not insert all the way into the product. Do not force the card into the card slot.

CAUTION:

Inserting the memory card in any other way might damage the card and the product.

When the product detects the memory card, the status light flashes and then remains solid green.

CAUTION:

Never remove a memory card while the green light is flashing. Doing so can damage files on the card. Safely remove a card only when the status light next to the memory card slot is not blinking.
HP Photosmart 5510 e-All-in-One Printer - B111a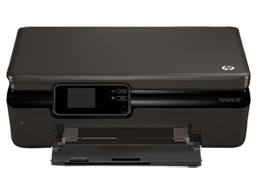 More for this product
HP Support forums
Find solutions and collaborate with others on the HP Support Forum