HP LaserJet Pro M1536dnf Multifunction Printer support
Download
By downloading you agree to HP's
Overview
How to install
System requirements
Description
Release details
Compatibility:
Microsoft Windows Vista
Microsoft Windows 7 (32-bit)
Microsoft Windows 7 (64-bit)
Microsoft Windows Vista (64-bit)
Microsoft Windows Server 2003
Microsoft Windows Server 2008 W32
Microsoft Windows Server 2008 x64
Microsoft Windows 8 (32-bit)
Microsoft Windows 8 (64-bit)
Microsoft Windows Server 2012
Microsoft Windows 8.1 (32-bit)
Microsoft Windows 8.1 (64-bit)
Microsoft Windows XP
Fix/Enhancement
Fix the fax receive to PC on Windows XP issue.
Fix the UPD driver confliction issue.
Support ePrint.
Shorten the overall installation time.
Fix HP Product Improvement Study pop-up windows issue.
Fix Safeguard 360 firewall issue.
Download Info: This section will help you in the download of the software to your computer and start you on the install process. Below are easy-to-follow instructions for downloading and installing printer drivers.

DUE TO THE SIZE OF THIS DOWNLOAD, HP RECOMMENDS DIAL-UP CUSTOMERS ORDER THIS SOFTWARE ON CD.

Approximately 200MB of free hard disk space is required to use this download.


Close any screen savers, virus protection programs, or other software programs running on your computer.

Click on Download Now and a File Download box will appear.

Select Save This Program to Disk and a Save As box will appear.

Select a directory to save the file in and click Save.

Locate the file using Windows Explorer when the download has completed.

Double click on the file. This will extract all the driver files into a directory on your hard drive. The directory these files are extracted to will have a similar name to the printer model that was downloaded (i.e., c:\ HP_M1530_Full_Solution). However, you can change the path and directory name at the time of extracting the file. Please note the directory and path where the files are extracted.

Install this file by clicking Start then Run on your PC. Select Browse and find the directory where the file had been saved. Double-click on the file "Setup.exe" to start the install.

Follow the on-screen instructions.

NOTE: Microsoft Windows Vista "User Account Control" messages will be seen during the HP LJM1530 installation process "A program needs your permission to continue" for HP LaserJet M1530 software components to be installed. Choose continue for installation of the HP LaserJet M1530 software.

NOTE: After the installation is complete the downloaded .exe file and the extraction folder (by default: C:\HP_LJ _M1530_Full_Solution) can be deleted to free up 200MB of hard disk space.
Details and specifications
Windows 7 / Windows 8
1GHz 32-bit(x86) or 64-bit(x64) processor
1 GB RAM (32-bit) or 2 GB RAM (64-bit)
200 MB free HD space
CD/DVD-ROM or Internet
USB or Network

Windows Vista
1GHz 32-bit(x86) or 64-bit(x64) processor
1 GB RAM (32-bit) or 2 GB RAM (64-bit)
200 MB free HD space
CD/DVD-ROM or Internet
USB or Network

Windows XP (32-bit) Service Pack 2
Pentium 233 MHz processor
512 KB RAM (32-bit) or 2 GB RAM (64-bit)
200 MB free HD space
CD/DVD-ROM or Internet
USB or Network
HP LaserJet Pro M1536dnf Multifunction Printer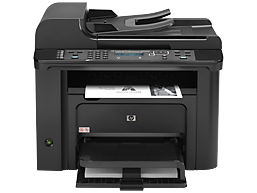 More for this product
HP Support forums
Find solutions and collaborate with others on the HP Support Forum